Airstream UVC 510A Air Stream Air Purifier
Regular price
$373.00
Sale price
$224.00
Save $149.00
/
---
In stock, ready to ship

Inventory on the way
There is an increasing concern about air pollution levels both outdoors and indoors. indoor air can be five times as polluted as outdoor air. Since indoor air is not circulated as much as outside air, many airborne pollutants continue to thrive inside.
The UVC air purifiers can refresh stale air, reducing the chances of health issues caused by indoor pollutants, which can trigger respiratory infections, neurological problems, or aggravate symptoms in asthma sufferers. It also eliminates several types of indoor air pollutants, keeping us healthy.
The UVC Air purifiers with HEPA technology filters can remove 99.7 percent of the airborne particulate matter (PM) circulating in your home environment. Removing these pollutants can lead to several immediate and long term health benefits such as better sleep quality and increased life expectancy.
The UVC model represents the latest in UV air purification. Once installed in the return air vent or ductwork of ventilation and AC systems, the unit destroys airborne organic and chemical contaminants and uniformly cleans the air throughout the home.
Function principle of the air purifier: Domestic dust, animal hair, smells, pollen, harmful gases and various bacteria and viruses are filtered and cleaned out of the air using a triple-layer filter system and the UVC light.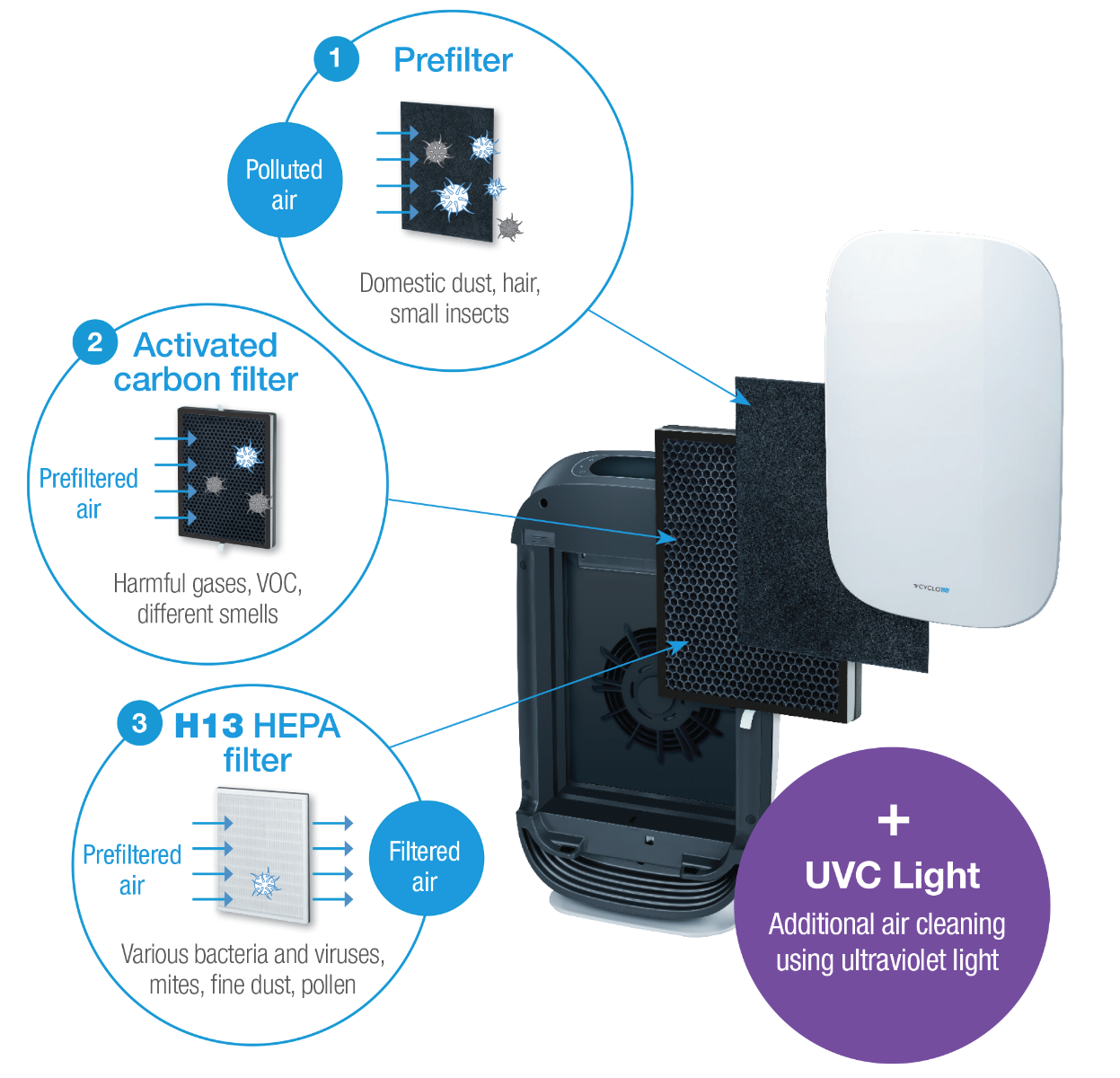 Features
With Tuya Smart app

Convenient control and monitoring of ambient air both at home and on the go via the Tuya Smart app.

 

UVC Light

Additional air cleaning using a ultraviolet light (neutralizes virus and bacteria).

 

Night mode

With night mode: ultra-quiet operation and dimmable operating panel.

 

PM sensor

PM 2.5 sensor – recognises particles up to 2.5 μm in size.

 

Clean Air Delivery Rate

CADR 350 - for rooms† up to 1,545 ft2 †.

 

Air quality indicator

With 4 colors changing according to the current air quality.

 

Ionization

More than 3 millions/cc of negative ion power.
Other features:
3 steps filtration with a Touch panel
4 manual fan levels with Turbo mode

Smart sensor to adjust the cleaning performance to the ambient air
Timer function (2,4 or 8 hours) with an air flow rate up to 135 CFM
Replaceable filter with filter change indicator
2 years warranty